Last update : 07/06/2021
Often paraglider pilots are interested in flying there, but fear that the rest of their family will be bored. It is true that some paragliding sites are excellent for free flight, but lost in the middle of nowhere. What to do in Valle de Bravo? This recurring question will find reassuring avenues here to prepare your paragliding trip, and that everyone finds their account.
Paragliding is one of the emblems of Valle de Bravo. It is even pictured on the bodywork of most of the city's taxis. But Valle de Bravo existed long before paragliding and is self-sufficient. It is a picturesque village, stamped "Pueblo mágico" (picturesque village) which attracts many Mexican tourists. It is still untouched by mass tourism, unlike Cancun, Playa del Carmen or Tulum, and that's fine!
It is true that there is something magical about this village. A real cachet, colonial buildings from the 16thth century, and a lake. A little air of Annecy or Lake Como with Mexican sauce! Even if you are a paraglider pilot yourself, you will no doubt enjoy doing something else from time to time.
Here it flies every day, and we sometimes feel the need to ease off, when we are full!
Personally, I fly a lot, and I sometimes enjoy taking a break!

Vous préparez votre
voyage parapente
? Cet article est également disponible
en Français
Lake
Many Chilangos (inhabitants of Mexico city) going to Valle, to enjoy its lake. This lake has not always existed. It is a reservoir of drinking water for the inhabitants of the capital. A dam was created in 1947 and gave birth to the lake.
Whether you want to take a boat trip (lancha), sailboat, water ski, wake, kayak, paddle, you will find your happiness.
Paddle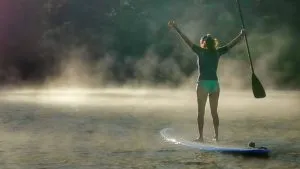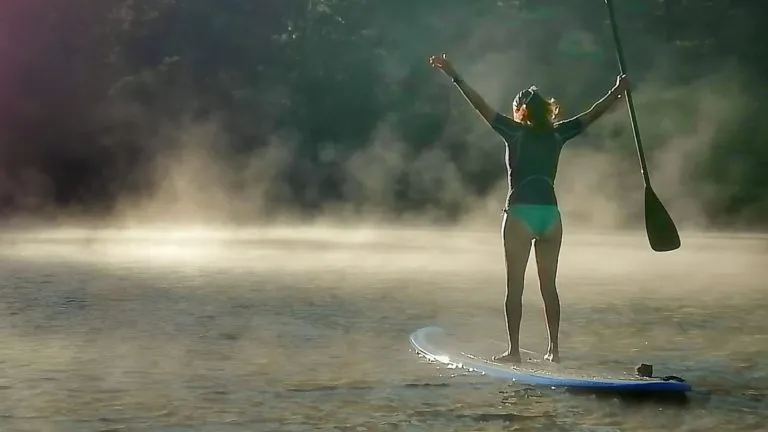 Personally, I am a big fan of paddleboarding, which I practice several times a week, especially at dawn, when the mist still covers some parts of the lake, soon dissipated by the sun. Worth getting up early to experience it. And it gets in shape for the day!

I advise you to book a session with my friend Arturo (mexicopaddleco.com). If you don't know anything about it, he will take the time to initiate you and go with you. The meeting point is usually at the Santa Maria paragliding landing.
Lift foil
Another Arturo I know offers "lift foil" lessons. It is a board equipped with a foil, and an electric propeller. And we manage the speed with a wireless joystick. Guaranteed sensations.
He will reimburse you for the course if you are unable to fly over the water at the end of the 30-minute course. It is still more expensive than the paddle, but we pay for the session, so you can divide the price by the number of people (3-4 people max). His website: https://alahua.mx/
Hike, stroll
Monte Alto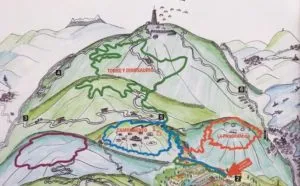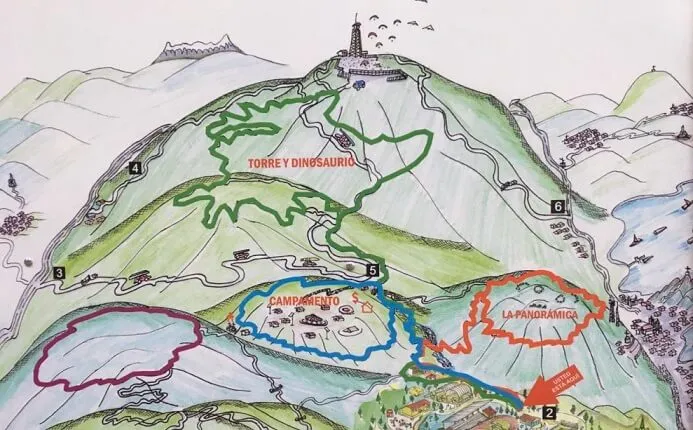 If you prefer to tramp, on foot or by mountain bike, Monte Alto has a network of trails of different levels, identified by colors (like ski slopes). Bring a few pesos as the forest guards will surely ask you to pay an entrance fee. You can even go up to take off from the Torre.
In order to be able to fly there, they will also need to present a paper authorization (more a liability waiver than anything else). I can provide you with this precious sesame. Avoid going there on weekends, as there are a lot of tandems. Maybe we'll take a flight together.
La Peña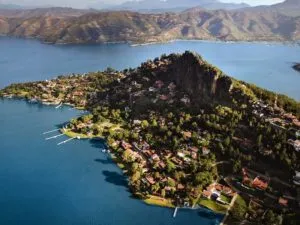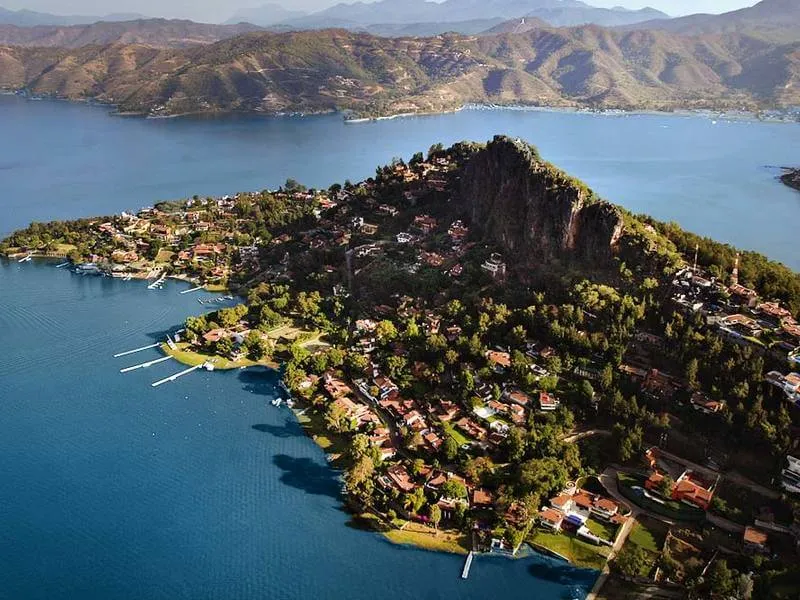 You can also go to the Peña del Principe, which constitutes a 360 ° promontory to admire the lake and Valle de Bravo. There is a chance that you will fly over it in a paraglider, coming back from the Peñon. In any case I wish you! Refer to the part cross country (XC) for more. The photo opposite was taken while paragliding.
The Monarch Butterfly Sanctuary
It is in my opinion to do absolutely, because unique in the world (or almost). It's an hour's drive away. You can hire a taxi to get to Piedra Herrada. From there, a guide will offer to accompany you to explain their great migration. You can also ride there on horseback.
El velo de novia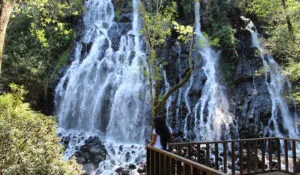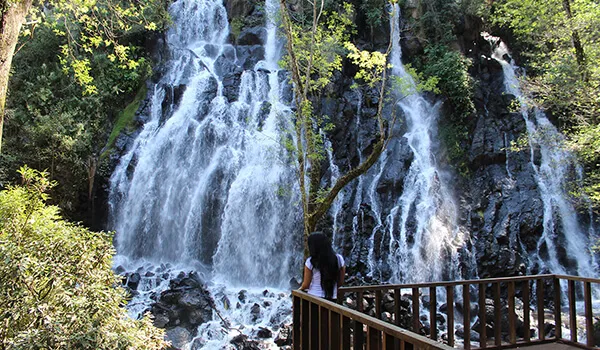 Another very famous place in Valle de Bravo, the "veil of the bride". A 35-meter-high waterfall, surrounded by nature. Not far from there, you can also visit the Rio del Molino waterfall. As we are not very far from the posh Avandaro district, I also recommend that you take a look.
Other tourist activities
So far I have spoken above all about sports activities, but you can also go shopping, discover the markets (conventional or craft).
The municipal market
There's nothing like a market to get to know the people of Mexico better. You can find everything there. Exotic fruits (and huge raspberries), cactus leaves (nopale) that we eat, all kinds of spices and we can even eat on site, in the halls. You can also find clothes and shoes there, at Mexican prices.
The craft market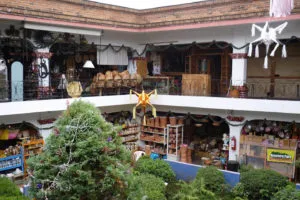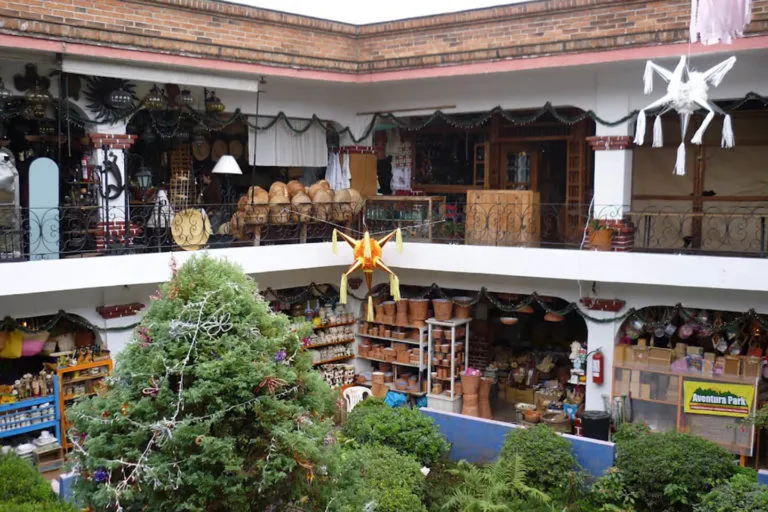 At the artisan market (mercado de artesanias), you will find handicrafts from the region and all over Mexico. The most typical are glazed clay pottery, wrought iron, fabrics made by the Mazahua Indians, embroidery and basketry.
You cannot leave Bravo Valley without the memory of your trip, so after spending a day on the lake, exploring, taking photos and enjoying nature, go to the craft market and be amazed by the work artisans.

So much for this non-exhaustive overview of the activities of Valle de Bravo. I have not detailed all the activities:
You can also discover the local gastronomy, visit museums, churches, relax in stupas (Buddhist temple), go to the Zocalo (village square) at dusk, and thousands of birds start squealing, rock climbing, play golf, ride a horse ...
In any case, I hope I have reassured you about the tourist and cultural potential of this little paradise.
We fly very well there, but it is quite simply good to live there too. During the Covid-19 pandemic, Valle de Bravo served as a refuge for many "chilangos", fleeing the capital during confinement.