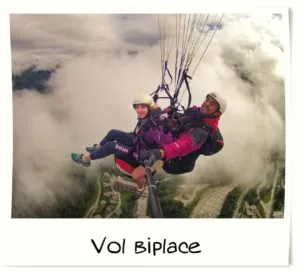 Flying is man's oldest dream. the tandems paragliding (or tandem) allows you to approach the activity in safety.
To you serenity and freedom! During a baptism you take full view.
It is also another way to discover Valle de Bravo, the Mecca of paragliding at Mexico.
Choose your paragliding flight
We offer several formulas, according to your desires.
Discovery
Discover the paragliding flight in calm conditions. Ideal for a first time.
Remarks  : This flight is the only type of flight possible for children and lightweights.
See Faq.
Duration : 10 - 15 minutes.
Price : €
Ascent
The conditions are more established, it is now possible for us to stay in the air, even to climb in the sky (and not just to descend).
Duration : 20-25 minutes.
Price : €€
Prestige
For the experts. The ascents allow us not only to ascend, but also to move around. Depending on the conditions of the day and your desires, we will offer you an adapted ride.
Duration : About 45 minutes.
Price : €€€