Last update : 09/12/2022

Vous préparez votre
voyage parapente
? Cet article est également disponible
en Français
What is PWC superfinal ?
Every year the Paragliding World Cup (PWC) takes place.
The World Cup occurs in up to 5 places across the world, but since 2010, the best pilots of each round is then selected to compete in the superfinal. This year, they will meet at the Peñón site, from December 6th to 17th 2022..
El Peñón
The Peñón, located between Temascaltepec and Valle de Bravo has already hosted the Paragliding Superfinal (PWC) twice in 2011 and 2015.
Every year it hosts FAI competitions in both paragliding (Monarca) and hang gliding (El Peñón Classic).
In 2022, the North American championship (Canadian and Mexican) will be held shortly before the superfinal.
In 2015, Julien Wirtz (FR) finished second behind Stefan Wyss (CH), while Alex Jofresa (FR) was 4th.
In the female category, Seiko Fukuoka Naville and Laurie Genovese took first and second place.
Overall, France was ranked 2nd nation, behind Switzerland and ahead of Italy.
Among the Mexicans, Manuel Quintanilla, and Estefano Salgado will be present.
Among the French, there will be Honorin Hamard, Luc Armand...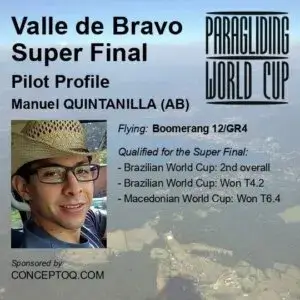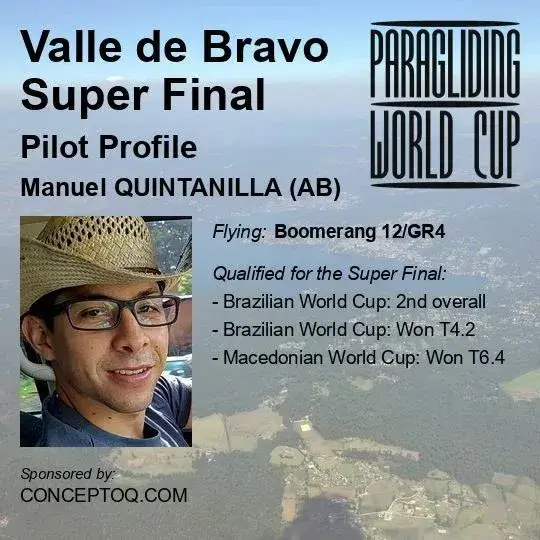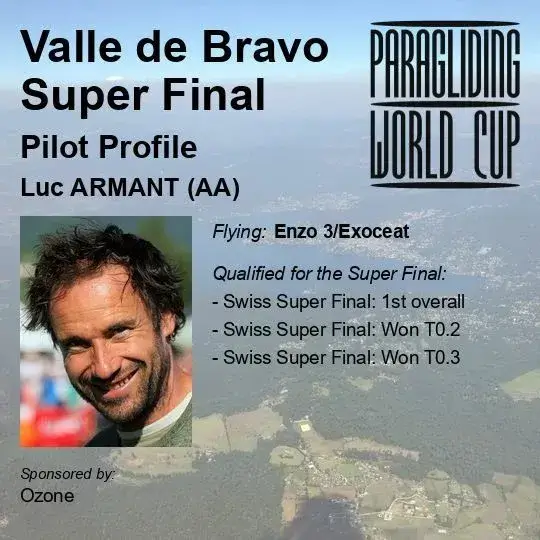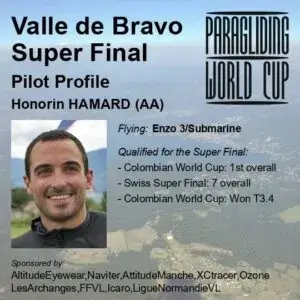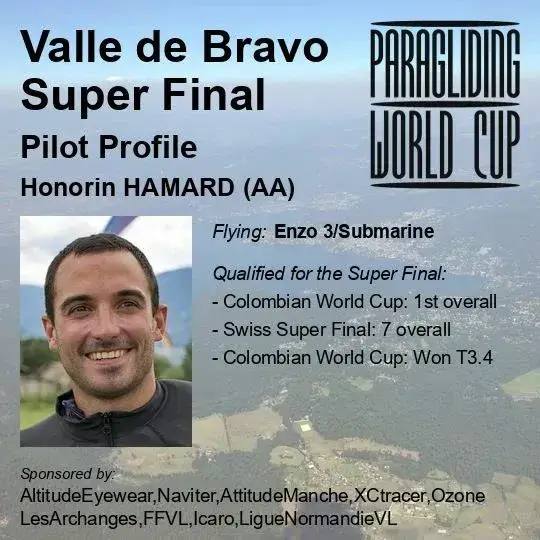 I recommend following the Paragliding World Cup instagram to learn more about the competitors at this paragliding world cup.
S'y rendre :
Pour se rendre au décollage, il faut prendre la route depuis Valle de Bravo qui mène à Temascaltepec. Puis à mi-chemin tourner à la Albarrada :
Vous y verrez des conteneurs. Prolonger la route jusqu'au décollage. C'est un chemin en terre, parfois défoncé, mais n'importe quelle voiture peut y accéder.
To get to the landing, you have to continue your way in the direction of Temascaltepec. You will come to a crossroads (la desviación), where you must turn right.
In both cases, here are the Google Maps routes:
Valle de bravo
Déclaré « Pueblo Mágico » en 2005, c'est effectivement un village magique, et il a toujours été un lieu de villégiature pour la bourgeoisie de la ville de Mexico. Valle de Bravo est habité depuis très longtemps, des traces remontant jusqu'au néolitique. Les demeures coloniales actuelles ont été batis sur les ruines des civilisations Aztèques, puis Otomi, Mazahua.
Vers 1530, un frère, Gregorio Jiménez de la Cuenca bâtit installe la première ville, qui accueillera plus tard un couvent.
Pour supporter la demande en électricité de la ville de Mexico, près de 3000 hectares de terrain sont inondés par la création d'un barrage.
C'est ainsi que né le lac de Valle de Bravo en 1955.
En raison des brises constantes venant de l'Ouest, Valle de Bravo accueille les épreuves de voile des Jeux Olympiques de 1968.
Plus tard en 1978 un petit groupe de pionniers du deltaplane inaugure le vol depuis la Torre, et parmi eux Miguel Gutierrez (organisateur de la PWC Mexico, du Monarca)…
The Peñón was only flown in 1985. Since then, its reputation has been growing.
Flying conditions
Il y a deux saisons à Valle de Bravo : la saison sèche et la saison des pluies.
Il est possible de voler toute l'année, mais les conditions sont forcément différentes d'une saison à l'autre.
Pendant la saison des pluies, il reste possible de voler le matin, avant le déluge. Le paysage change radicalement des cascades et des paysages verdoyants laissent place à des conditions quasi-désertiques. Avant que la saison des pluies ne reprenne en mai.
Le plafond n'est pas très haut, du fait de l'humidité, mais les conditions sont douces. La pluie s'arrête progressivement à partir de Septembre. En Novembre les conditions sont idéales pour qui veut apprendre et progresser en parapente. Ensuite les conditions deviennent plus sportives. A partir de la mi-février les deltas deviennent plus nombreux que les parapentes, car cela devient fort.
C'est un endroit idéal pour réaliser de beaux triangles FAI, car les conditions sont constantes : C'est de mieux en mieux à chaque jour ! On profite régulièrement de plafond à 4000 m !
Voici quelques itinéraires classiques.
Go further
Le site dédié à la superfinale :  https://pwcamexico.com/
La vidéo de présentation :